I think it's time to set the record straight about my personal branding photos.
You know the ones I'm talking about….
The photos of me in a pink tulle skirt looking like I came straight from a glamour set (full disclosure, that's because I did).
They're not your typical "light and airy" businesswoman shots, are they? And people seem to either really love them or really hate them.
I've had women DM me and say "OMG girl your photos are so amazing! You look fucking fabulous!"
I've also had women leave comments on my posts saying that I "make them sick" and that I am "holding women back" and that I am "appalling" (true story, happened just last week).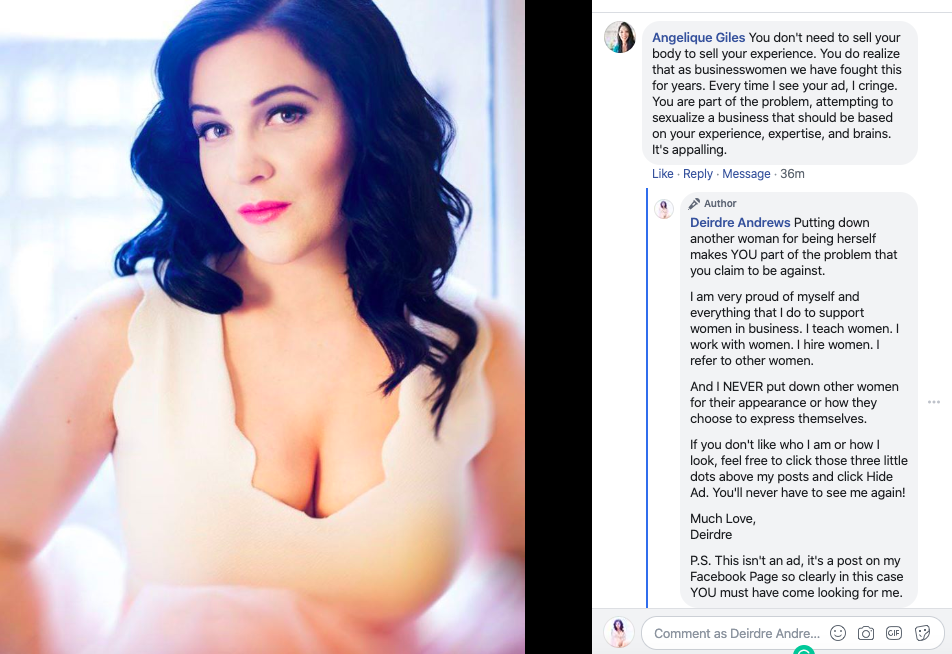 I usually try to just shrug off negativity like that because, as a feminist, I believe that women have the right to express themselves however they choose. I also believe strongly in supporting other women, lifting them up and cheering them on!
But I received an email from one of my readers the other day which really made me think, and I wanted to share it with you in an effort to be more transparent in my business (and to be more honest and open with you about who I am).
I mean… I wouldn't even have a business without you!
And that's why I want to set the record straight.
So, here is the email I received:
"Hey Deirdre, I think you write great emails and have been tempted to work with you. But honestly, something changed when I watched your Facebook Live replay.

I was struck by how different you appeared in your Facebook Live video from your branded photo. It was really shocking, to be honest. You look sophisticated in your branded photo but then surprisingly young in your Facebook Live. It looked like two entirely different people! I think subconsciously that's what kept me from moving forward with your services.

I really loved your branded photo and had an image in my head of who you were based on that and then when I saw your Facebook Live clip I realized it was an illusion, and it worried me that someone with your experience made this branding misstep, so I guess that's why I didn't move forward.

I really really really am sending this email to help you despite how it might feel to receive it. I am having trouble marketing my own products so I probably need some frank feedback myself about what I am doing wrong. In other words, I am definitely not perfect and still trying to figure out things myself."
Ok, let's break this down.
First up, please know that I love getting email replies and I truly do appreciate receiving constructive criticism when delivered with kindness and good intention.
I may not always agree with that criticism, but I want you to know that I'm a real person behind this computer screen and I do care about what you have to say.
Next up, I wanted to share my reply with you.
As I said, I'm making more of an effort in 2020 to strengthen my personal brand, and that includes opening up and sharing things about myself that make me feel quite vulnerable, to be honest.
So here's what I had to say in reply…
"Thanks very much for your feedback! I really do appreciate it as it helps me move forward.
You're totally right that I don't go around looking glam like that every day. I work from home most of the time with nobody to see me!
But that doesn't mean that my photos are an illusion or not real. Both versions are ME!
I love to work from home, in my pyjamas, with my hair in a topknot (and I talk about that in my emails).
I also love to put on a tulle skirt, a statement necklace and a pair of stilettos when I go out!
Now, since you've taken the time to kindly share your feedback with me, I'd like to take a moment to share a little bit more of who I am as a person with you and let you know the story behind these photos.
To start, you mentioned that I looked surprisingly young in my Facebook Live. Am I young? I guess that depends on your perspective of what young is. I'm 34 years old (turning 35 this year) and I've been working in marketing for 15 years (I actually began interning in my 2nd year of college)
I've worked full-time in software marketing (for Microsoft, Adobe and other major brands). I've worked as a lead digital strategist within a full-service agency (for major brands like Hard Rock Casino, Porsche, Audi).
And I've also worked full-time for many years for my own local family business, a dance studio.
But I'm sure you know all this from my "About Page"
What you may not know is that 2 years ago I made the choice to leave my corporate job, move to a new country and live off my savings while working to start my own business.
Being my OWN boss and doing everything by myself, without the help of a team, has been a huge learning curve for me. As a business owner, I'm sure you know what that's like!
But… let's get back to my branding photos…
Do these photos represent what I look like on a daily basis? No, they do not.
Are they a lie, an illusion, or a branding misstep on my part? No, they are not.
These photos are still ME and the decision to use them in my marketing was a calculated choice based on where I am at this stage of my own business.
You see, when I started Define Marketing, I wasn't expecting this to turn into a personal brand. I specialize in digital marketing and paid traffic strategies (not branding or PR) and I believed that paid traffic alone would be enough to get my business off the ground.
But I realized about 6 months into this journey that, in order to better connect with my readers and potential customers, there needed to be a PERSON behind all of this.
So I made the choice to show my face on my website and in my ads.
But here's the thing… I didn't have any branding photos!
And I didn't have room in my budget to hire a professional branding photographer (the first year of business is really expensive).
So I made the choice to use a set of professional photos that I already had from 3 years ago. I made the choice to move forward with the resources I had available to me at the time. I'd rather do something, anything (even if it's not perfect) than just sitting around doing nothing.
Now, granted, it's not the look I would have gone for had I been able to set up a branding photoshoot right away, but I still LOVE these photos of me. They make me feel good about how I look, they make me feel confident, and as women in business, isn't it so important that we seize the day with confidence?
So I have no regrets about the choice I made!
And you know what? Paying for photography at that point in time wouldn't have made sense anyway! I was still figuring out my brand. I wasn't even sure yet what part of myself I wanted to emphasize.
But I am SUPER EXCITED to share that my business has grown leaps and bounds over the past year and I'm now in a position now where I CAN afford a professional branding photoshoot. I have one booked for May 2021!
And I'm so happy that I waited because I have a much clearer idea now of who I am as a businesswoman and a mentor, and of how I want to showcase that through my photos.
I tell you all this not as a way to convince you to buy my programs, but in a sincere effort to open up to my students, be transparent and be real about who I am and where I'm at in my journey as a business owner.
Just like you, I'm not perfect.
I'm still learning and figuring it all out.
But I'm grateful for the lessons I'm learning along the way and I'm excited to keep moving forward!
I hope you'll stick with me on this journey because I'd love to be there to support you through yours.
Thanks again for sharing your honest thoughts with me.
Lots of Love,
Deirdre"
So there you have it, that was my reply to the reader who reached out to me.
My honest truth!
I'm still a solopreneur and I'm wearing many hats.
I don't know much about personal branding (that's why I don't teach it) but I'm learning.
I do have 15 years of experience working in marketing and business development for other people.
And I've specialized in paid traffic over the last 10 years.
That's what I teach and that's what I'm excited to share with you!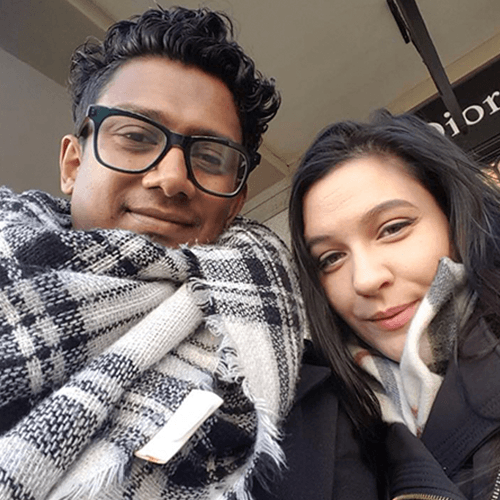 So, if you still love me, then I hope you'll stick around so we can support each other as business owners!
And if you have a similar story about doing your best with what you've got, I would love to hear about it. Just hit reply and let me know!
That's all for now! I'll chat with you soon.