The other day I was mindlessly scrolling through all of the cat videos my Facebook News Feed when my eyes locked on this advertisement for Google Ads. Obviously, it caught my eye, because managing Google Ads campaigns is what I do for a living, and teaching entrepreneurs how to run their own Google Ads campaigns is what I want to do for a living.
So when I saw this ad, I was really curious to see how Google is trying to sell its ad platform to new users. Here's what the ad looks like: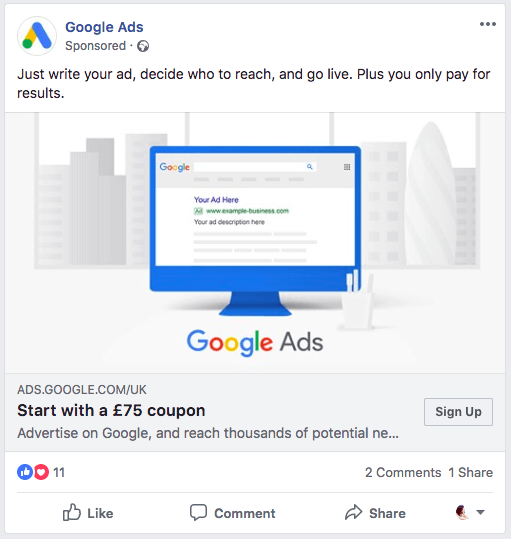 The ad says, "Just write your ad, decide who to reach, and go live. Plus you only pay for results."
And when I saw it, I'm gonna be honest with you, it got me riled up and it got me feeling hot-headed. My first reaction was….
THIS AD IS COMPLETE BULLSHIT!
Now, to be clear, I love Google Ads! I think Search Engine Marketing is a fantastic tool for generating relevant, ready-to-buy web traffic and I wholeheartedly endorse the Google Ads platform.
But when I saw this ad I thought to myself, no wonder business owners get so frustrated when using Google Ads for the first time! No wonder they get so angry when it doesn't work for them and they tell anybody who'll listen that online advertising is just a scam!
The comments on this ad backed up my reaction without a doubt. Comments like these:
"Google has way overestimated…"
"This isn't working for me. It's like throwing my money into a black hole."
How frustrating for these business owners! How discouraging!
Now, when I calmed down and thought about it objectively, I could understand where Google is coming from. I mean, it's not all that hard to set up an account and it's not all that hard to create your first ad and go live. And Google makes money from advertising, so obviously selling the "ease" of the platform is a good way to bring in new advertisers.
But the truth is, there is a hell of a lot more that goes into running a successful Google Ads campaign than just writing your ad, deciding who to reach and going live. If it were really that simple, then my job as a digital strategist wouldn't exist.
Now, that doesn't mean that I think you, as a business owner, can't run your own campaign…
I ABSOLUTELY 100% BELIEVE THAT YOU CAN!
You do NOT need to hire an expensive advertising agency or marketing consultant to run your ads for you. You can set up a profitable Google Ads campaign, by yourself, and retain full control of your account!
That's why I've put together this detailed Google Ads Workshop, where I'm sharing my top 4 secrets to crush your Google Ads campaign!
This short course consists of 6 highly detailed videos covering the fundamentals of Google Ads along with my best tips to get you the click and the sale. These videos can be watched at your own pace and can be played again and again — you'll have access for life!
BONUS! Also included are 2 downloadable PDFs (also yours for life) covering my favourite ad copywriting tips and my top 10 ways to cut your ad costs in 10 minutes or less.
So, grab a cup of coffee (or a glass of wine!), a notebook and your favourite pen and join over 500 other savvy business owners in learning my top 4 secrets to crush your first Google Ads campaign!
Sign Up Now ==> https://www.definemarketing.ca/workshop