If you haven't tried out Lookalike Audiences for Facebook ads, now is the time. Using a Lookalike Audience is an effective way to reach new people who are more likely to be interested in your business.
When you create a Lookalike Audience, you choose a source (a list of customers, your mailing list, your website visitors, etc). Facebook will then identify all of the qualities these people have in common and search for new users with these similarities. In other words, your new audience "looks like" your current customers or followers.
A Few Things You Should Know Before Creating Your Facebook Lookalike Audiences
1. Choose a quality source! For example, rather than using a list of leads, try using a list of actual customers. It's better to go with a list of people who have actually made a purchase, rather than just shown interest. This will likely lead to better results.
2. Start with an adequate sample size. Although you can create a Lookalike Audience from any size source, Facebook recommends you have a minimum of 1,000 people. It's important to have ample data so that Facebook can really understand what these users have in common.
Now that we've covered the basics, let's talk about the different types of Facebook Lookalike Audiences we can create!
How to Create Your First Audience Source
We'll talk about some of the really cool ways of creating Custom Audiences below, but here's a quick guide to get you started.
First up, you'll need to navigate to your Audiences tab, then select Create Audience. In the dropdown list, choose Custom Audience.

Next up you'll have the option to choose your source.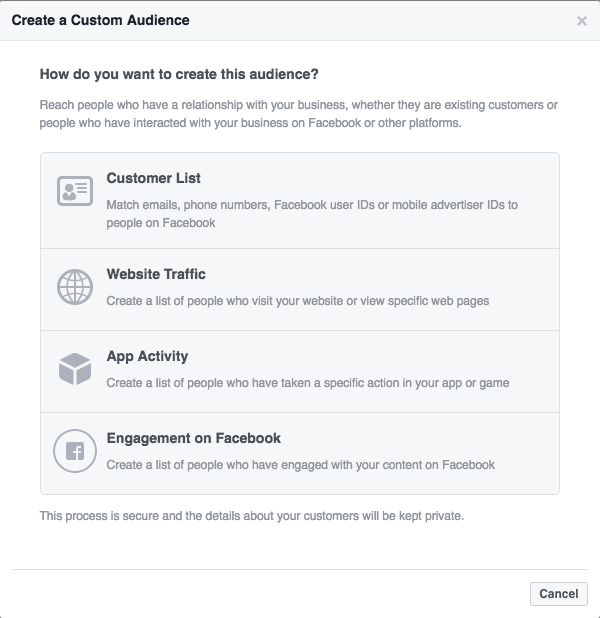 But what source should you choose? Well, that all depends on what your advertising goal is. Here are some really cool options:
Create a Custom Audience from a Customer File
With this source, you have the option of either uploading your own customer list from a CSV file, or importing a mailing list directly from MailChimp. Facebook will automatically match these e-mails (or phone numbers) to the users' corresponding Facebook profiles. Just remember that Facebook will never be able to match 100% of your list, since not everyone has a Facebook account and those that do maybe be using a different e-mail. So you'll need to upload or import a large enough list to account for a match rate of less than 100%.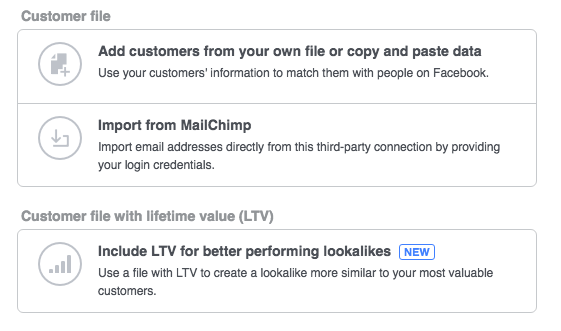 If you're advertising to find potential new customers or leads, try using a list of your very best customers as your source (customers with the highest lifetime value).
If you're advertising to find new subscribers for your mailing list, try importing your most engaged contacts (members with four or five stars).
Create a Custom Audience from Your Website Visitors
If you're advertising with the goal of generating web traffic (clicks), you might consider creating an audience using your current website visitors. There are a few different ways of going about this. The first is fairly simple — just create a pool of all your recent visitors.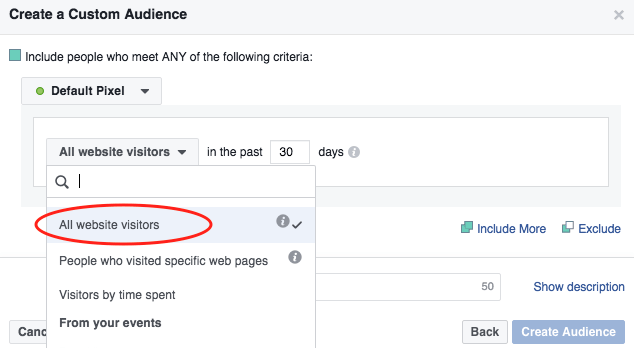 However just like with your customer file audience above, you'll see better results with your Facebook Lookalike Audiences by using visitors who are most engaged with your website. You can do this by choosing the Visitors by Time Spent option. I like to go with visitors in the the Top 25%. Let's say your website had 100 visitors in the last 30 days. Facebook will only include the 25 users who spent the MOST time on your site. This option eliminates people who bounced (left your site without taking any other action) or those who left fairly quickly after discovering that your content wasn't really what they were looking for, and leaves you with the users who actually took the time to learn about your business or browse your products.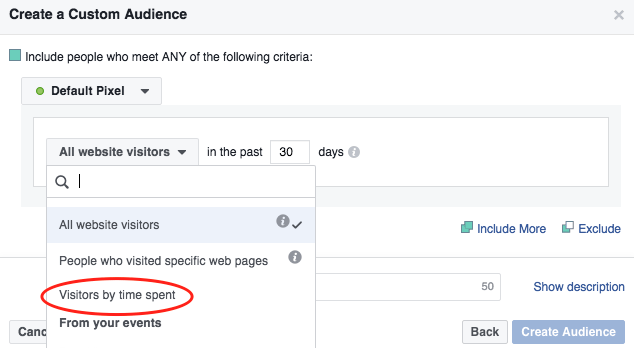 Yet another option is to create a custom audience based on what content or pages a user visited. This is a great option if you offer multiple products or services that may appeal to different types of people.
Maybe you're a clothing retailer selling both menswear and womenswear. Let's say you decide to create a web traffic ad to drive visitors to your big weekend dress sale. You wouldn't want to create a custom audience from ALL website visitors, because you'd be including guys who've been looking at ties and blazers along with women who've been looking at pants and t-shirts. Instead, you should create your audience from those who have specifically been looking at dresses.
Here's how it's done.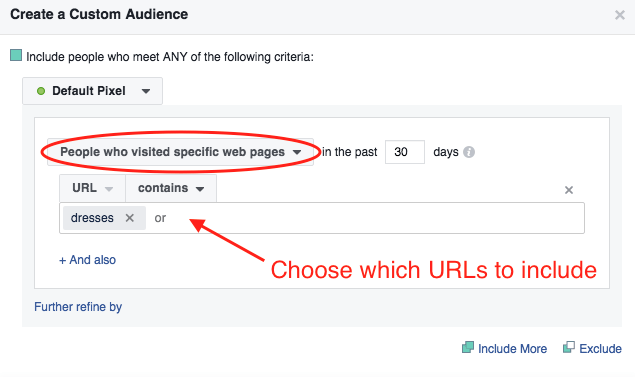 Create a Custom Audience from Engaged Users
I think this has to be one of my favourite ways to create a custom audience! In the past I've seen clients create Facebook Lookalike Audiences from those who Like their Facebook Page. However as we learned in a previous article, just because someone likes your page, it doesn't necessarily mean that they're engaged with your business or even your ideal customer.
But there are so many awesome ways to create audiences from those who really ARE engaged with your business. You can target those who have interacted with your Facebook or Instagram Page. Or those who have watched a certain percentage of your videos (or even one specific video). Or users who have filled out and submitted one of your lead forms.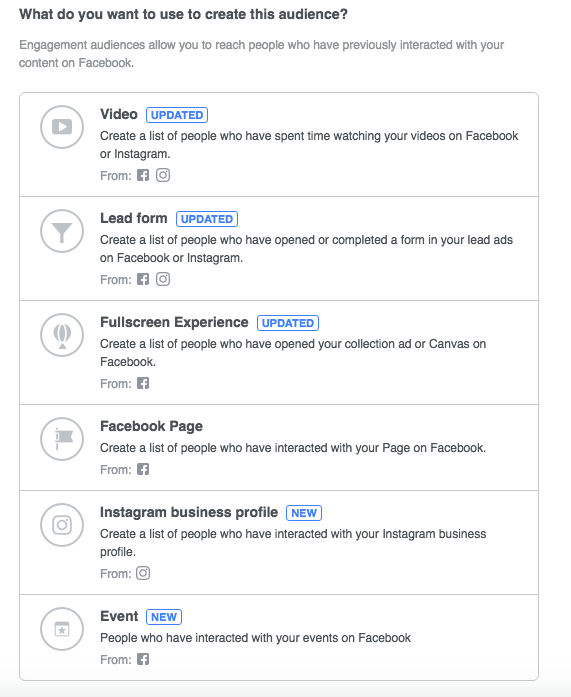 BONUS: Not only are these top quality source audiences great for Lookalike Audiences, you can also use any of them for your remarketing campaigns.
Now It's Time to Create Your Facebook Lookalike Audiences
Remember, to create a Lookalike Audience, Facebook recommends a source of at least 1,000 users to analyze for similarities. All of the options discussed above will allow you to create the perfect source audience to help you achieve your advertising goals. Now that we have our source, it's time to create the Lookalike.
Navigate to your Audiences tab, select which audience you'd like to use as your source, click the Actions button and select Create Lookalike from the dropdown list.

Next up, you'll need to select your region. You can select one or multiple regions, but Facebook needs to know WHERE to look for users who are similar to your current list.
Then, you'll need to choose your audience size, ranging from 1% to 10% of the total population in the countries you choose, with 1% being those who most closely match your source. A quick example just to illustrate what this means: let's say there were only 1,000 people on Facebook. If you choose 1%, Facebook will find the 10 people who most resemble your source. If you choose 5%, Facebook will find 50 people who most resemble your source, and so on.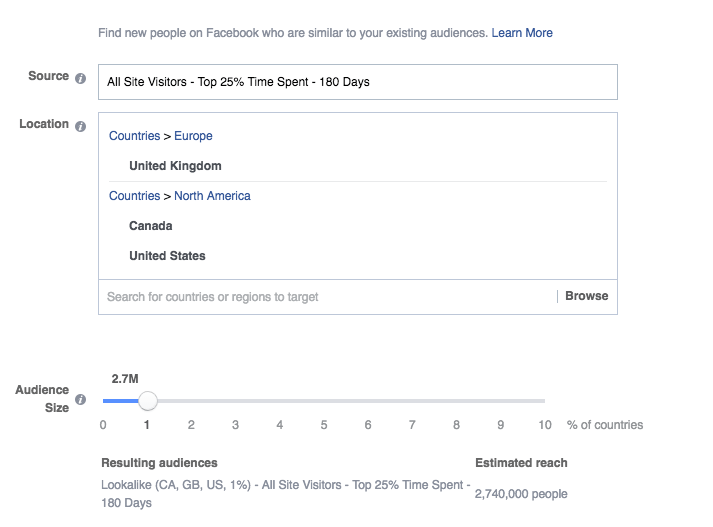 Of course, there are pros and cons to using different percentages for your audiences size. If you choose 1% you'll have a very similar audience to target, but it could possibly limit your reach. If you choose 2% or even 3% you'll be able to reach more people, but they may not resemble your source quite as much as you may like. I recommend testing out different audience sizes and seeing what works for you.
For Ultimate Success, Be Sure to Further Segment Your Lookalike Audiences
Now that you've created a top quality Lookalike Audience, it's time to advertise! But it's important to further refine your audience within your ad set to get the best results. You may be excited to have a Lookalike Audience of 250,000 users or more, but quality is just as important as quantity when it comes to ad targeting. Segmenting can help you achieve an even higher quality audience and in turn, a higher conversion rate.
Think about who your ideal customer is. Their age, gender, location, relationship status, parental status and more. You can narrow your Lookalike Audience by including this demographic targeting in your ad set.
We've talked previously about the local dance studio owned by my family. I've used Lookalike Audiences to target registration ads, but I also know very clearly who actually registers for dance. The majority of the studio's customers are women between the ages of 30-42, mothers specifically, who live nearby. This is how I've segmented my Lookalike Audience to make sure I'm targeting people who will actually buy what I'm selling.
Here you can see that I've entered my Lookalike Audience under the Custom Audience field. I've further narrowed this audience by targeting people who live in Ottawa, where my family's studio is. Note specifically that I've chosen People Who Live in This Location rather than everyone in Ottawa. Users just visiting or passing through are not likely to commit to an entire school year of dance.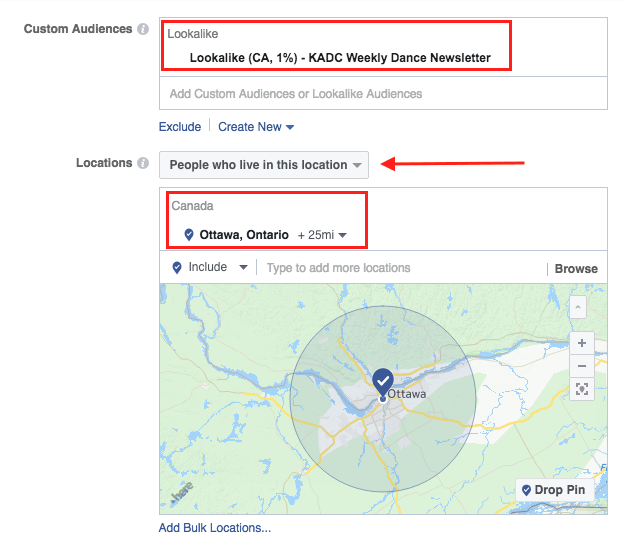 Next you'll see that I've further segmented my Lookalike Audience by choosing Women, selecting their age, language and even specifying that they must be parents.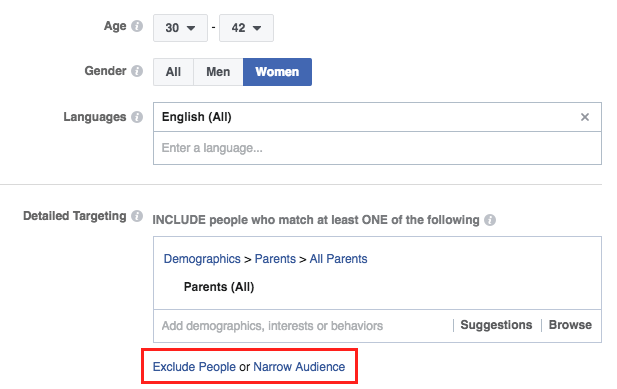 In this image I've also highlighted the link that says Exclude People or Narrow Further. If you're specifically advertising for NEW customers, I'd recommend excluding your current customers so you're not wasting spend.
I hope these tips for using Facebook Lookalike Audiences have been helpful. Try them out, and let me know what works best for you!