Whenever people ask me, "Why isn't my business growing? How do I get new clients?" I never hesitate with my answer:
You need to run paid ads! Google Ads, Facebook Ads and Instagram Ads are the quickest and easiest way to get your services in front of new people.
If you want your beauty business to grow, knowing how to run paid ads is a must. But there's more to running a profitable campaign than just boosting a Facebook post and waiting for the sales to roll in…
There IS some strategy involved! And that's when confusion and overwhelm typically set in. That's when I start hearing things like:
"Well, I tried a few ads and I started getting a lot of clicks that cost me so much money, but I didn't make very many sales."
or worse…
"I'm skeptical that paid ads work, or maybe they just don't work for small businesses like mine."
But the idea that paid ads aren't meant for small or local businesses is a myth. I promise, paid ads CAN and DO work all the time! You just need to run the right ads to the right people at the right time.
The Truth About How Paid Ads Work
If you've tried running paid ads in the past without success, you're not alone. Most small business owners try "boosting" a Facebook or Instagram post at some point just to see what happens (the answer? probably nothing). Or perhaps you put a few hundred dollars into Facebook Ads, only to be met with a credit card bill and no results.
Well, I've got a truth bomb for you…
You're NOT going to book new clients from a few boosted posts alone. Paid ads don't work that way, because people don't work that way.
Think about it… When was the last time you clicked on an ad and immediately whipped out your wallet to buy something? It doesn't happen often. And if it does, it's usually for something low-cost that doesn't require a commitment. Maybe something you already wanted and it's on sale.
Your potential clients are the same.
They're NOT going to hand over their credit cards just because they saw one ad. Especially if your service costs hundreds of dollars and requires their time.
This is where the "Customer Journey" comes in.
What is the Customer Journey?
The Customer Journey is the path that everyone follows on their way from browser to buyer. This journey may be short or it may be long, depending on what services you're offering. But ultimately, your potential clients will go through three key stages before they book you:
1️⃣ Awareness → Interest
2️⃣ Interest → Consideration
3️⃣ Trust → Action
Basically this means that people first need to become aware of your business before they can take an interest in what you do. They need to take an interest before they can even consider hiring you. And once they're considering you over any other business, they need to trust that you're the right person to help them before they'll book you.
Now that we know these stages, how can we use this information to create a marketing funnel (that's right, funnels work for local businesses), that actually gets people to book you?
Simple. Instead of boosting one Instagram post and trying to target everyone with it, we can use different types of ads to meet people wherever they are in their own Customer Journey.
It's all about showing the right ad to the right person at the right time.
Let's take a look at how that's done!
Step 1: Create Local Awareness of Your Business and Your Brand
To succeed with paid ads, we must reach people at every stage of the Customer Journey and guide them through. And as I mentioned a moment ago, people can't buy from you unless they know you exist. This might seem obvious, but it's a critical step that people often skip.
But let's backtrack for a moment…
It's important to note that at this stage, people aren't looking to buy anything (yet). They may have a general interest in what you do, but they don't have a pressing need for your service.
So, bombarding them with "BUY MY THING!" ads won't work.
But you can still introduce yourself, spark their interest, and make a lasting impression. This way, when they're ready to take the next step, your business will be the first that comes to mind.
So, how do you create awareness? Through VISIBILITY!
Big businesses understand this well. It's why they invest in radio ads, tv ads, magazine ads, and sponsorships. It's also why they come up with annoying but catchy jingles that you can't get out of your head. They want to make sure their brand is at the top of everybody's minds.
As a small local business owner, I know you can't afford to run expensive radio and television ads. But the good news is — you don't need to!
You can create the visibility you need with Google Display Ads for as little as $2/day.
These are the banners you see everywhere you go across the internet. On blogs, within news articles, popping up on YouTube, etc. They look like this: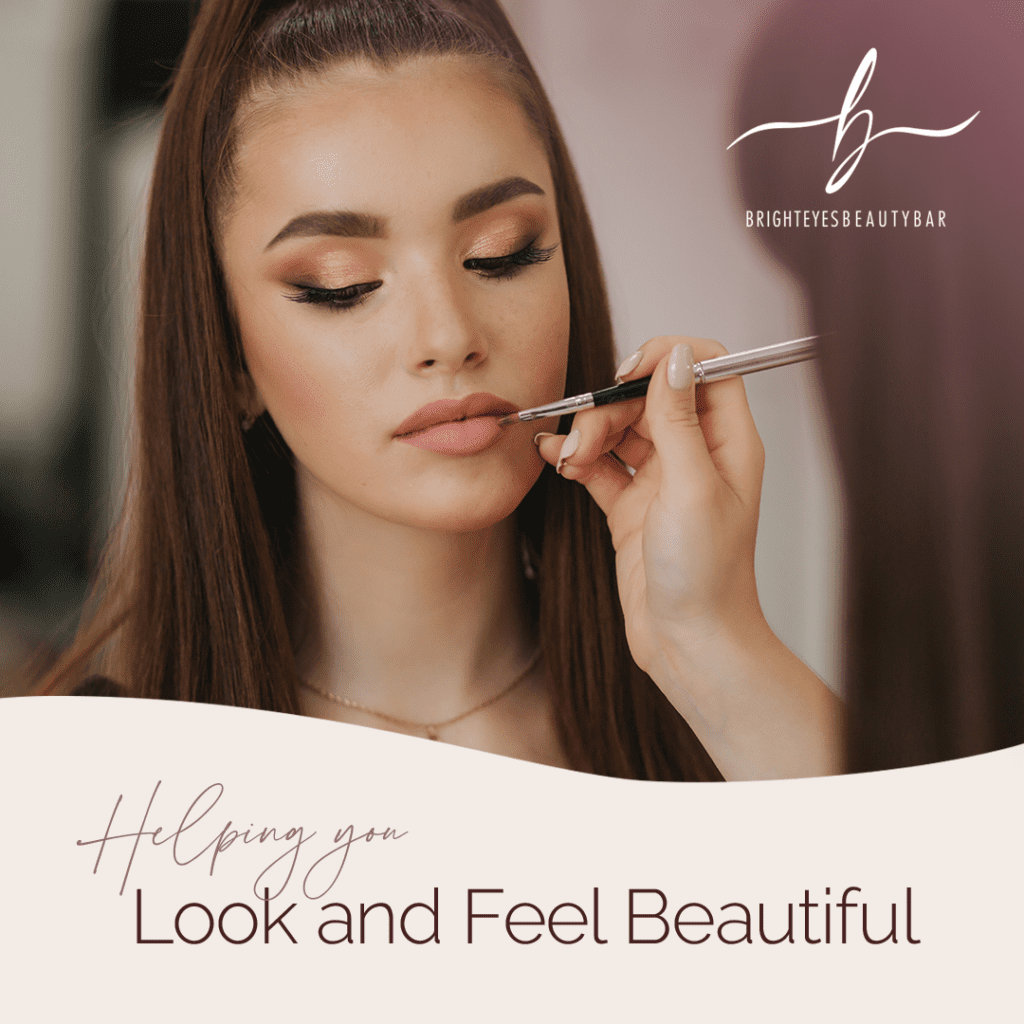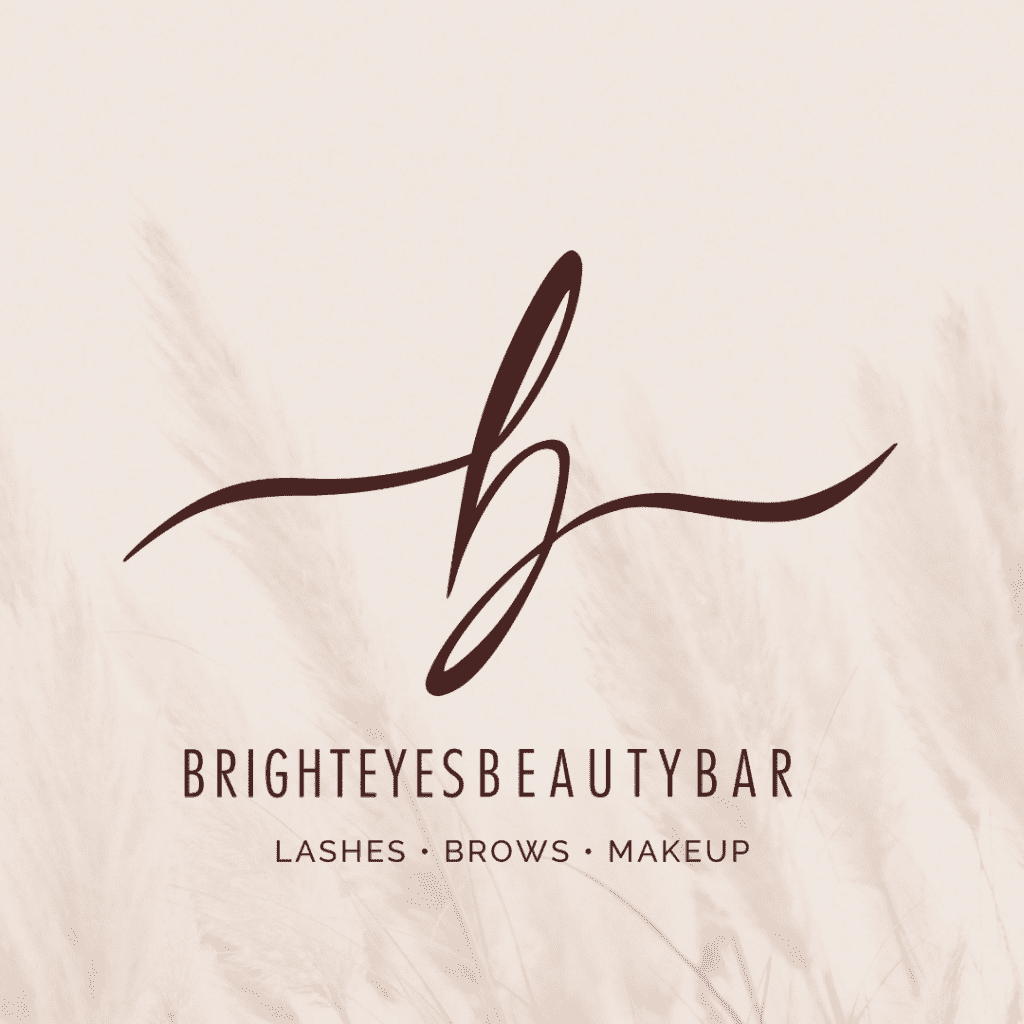 These display ads are for BrightEyes Beauty Bar owned by my client Tiffany, a lash and event makeup artist in Massachusetts.
Notice that we're not really advertising a specific service…
In the first banner ad, the image of a woman getting her makeup done combined with the tagline, "Helping you look and feel beautiful!" implies that this is a beauty service. And we've styled the whole thing with Tiffany's brand colours and logo (that beautiful cursive B) to create brand recognition.
And the second version is quite simple — just the business name and logo styled in the brand colours with a textured background image from Tiffany's website.
These two display ads are running on the Google Display Network targeting women interested in beauty and cosmetics. And yes, these ads are local! We're targeting a 15-mile radius around Tiffany's studio.
The women seeing these ads can click on them and visit the website if they're interested, but it's not a big deal if they don't. We just want them to know that BrightEyes Beauty Bar exists.
Now, before you go creating your own display ads in Canva, it's important to keep in mind that these ads should look cohesive with your website. Take a look at Tiffany's site: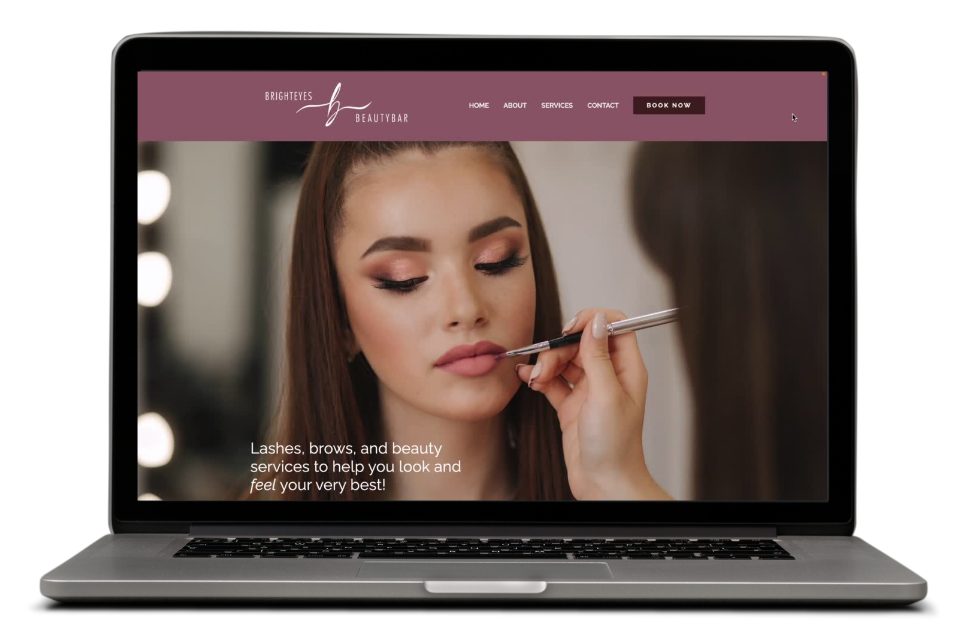 Always keep in mind that the purpose of your display ads is to create awareness of your business. You want people to know who you are and to remember you. For this to work, your brand colours, logos and images need to be consistent across all channels.
Step 2: Capture Interest and Get People Considering You
Now that you've increased the overall awareness of your business in your local community, it's time to get a bit more intentional with your advertising by targeting people who are further along in the Customer Journey.
These people are already interested in your service. They have an immediate need for help and they're starting to consider who to hire. Your goal is to get them to get them to consider YOU over the competition.
And the best way to do this is with Google Search Ads.
These are the ads you see at the top of your Google search results when you're looking for information. When it comes to promoting a local business, these ads are hands down my absolute favourite!
What makes them so POWERFUL is the way you're able to target your ideal clients — instead of "pushing" your ad out in front of people who may or may not be interested in what you offer (like with Facebook Ads or even Google Display Ads) — you're targeting people who are SEARCHING for your service and putting your business directly within their search results.
For that reason, conversion rates on Google Ads can be up to 3 times higher than on Facebook or Instagram Ads.
Here's a look at how these ads work in action:
Let's say someone wants to get her lashes done before a big event. She opens up Google, types in "best lash extensions near me" and hits search.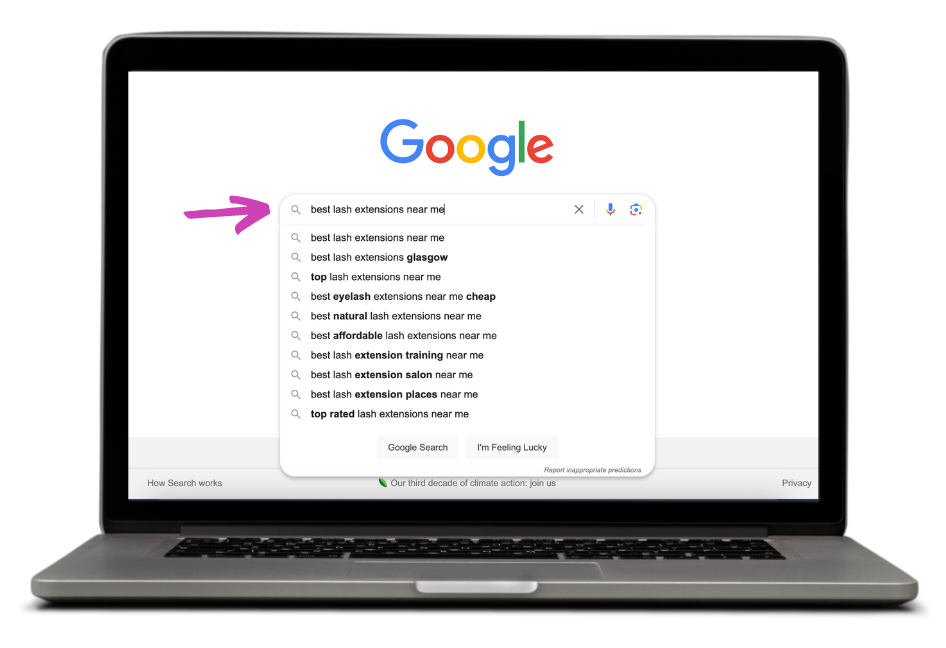 What does this person see in her search results? Typically, she'll see a Google map with local beauty businesses nearby, some reviews, and a list of websites related to her search.
But if you're running Google Ads? She'll see your business first!
Like this ad created for my client Dreama-Destiny, owner of Dreamy Days Beauty in Maryland: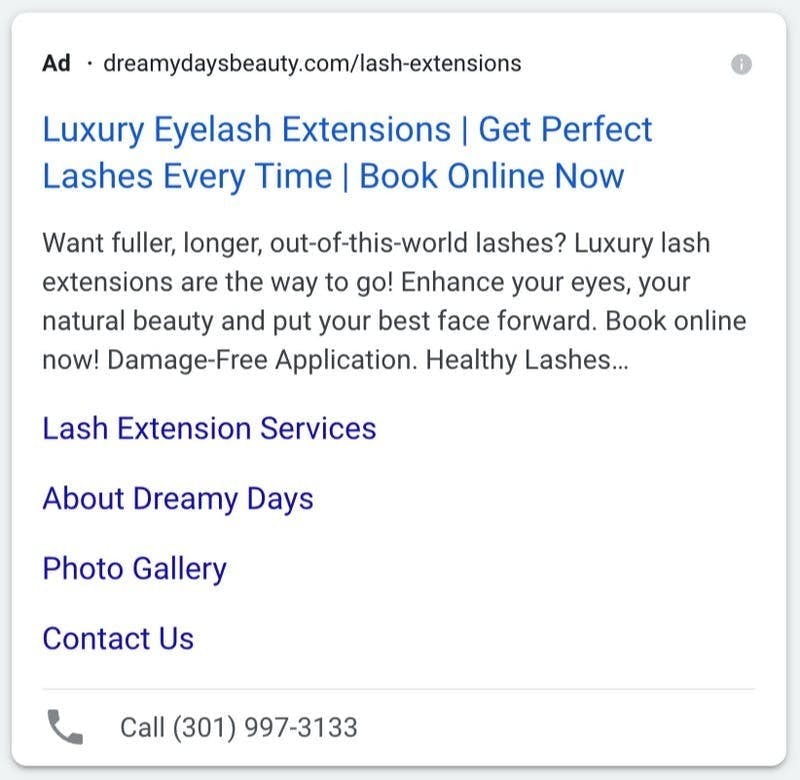 How convenient is that? This person is in the market for eyelash extensions and Dreamy Days Beauty is able to show up right then and there.
You can do this too!
No matter what service you offer, someone out there is already interested in what you've got. They're searching for it right now. With Google Search Ads you can capture that interest, get them considering you, and nudge them a little further along the path to becoming a customer.
Bonus! If they've seen your Display Ads and they already know that you exist, they're waaayyyyy more likely to check out your website over any other.
Step 3: Build Trust and Inspire People to Take Action
Now that you've built up an interest in your service and created a "warm" audience of people that are considering who to hire, it's time to build on that relationship.
This is critical because people need time to make decisions and they need to trust that you're the right person for the job. This is especially true if your service costs a lot of money!
This is where Retargeting Ads can work their magic!
These are the ads that follow you around the internet after you've visited a website or taken a look at a product. They're used to make sure you don't forget whatever you've been looking at and to give you an easy way back to it.
But contrary to popular belief, they DO NOT need to be annoying, invasive, or sales-y. You can use Retargeting Ads to help your website visitors get to know you better. This builds trust, which we know is a key factor in whether someone will book you.
I love using Instagram for this. Instagram Ads are visual, making them a great option for showing off your work.
Take a look at this ad for my client Amrit, a permanent makeup artist offering microblading and lip blushing services: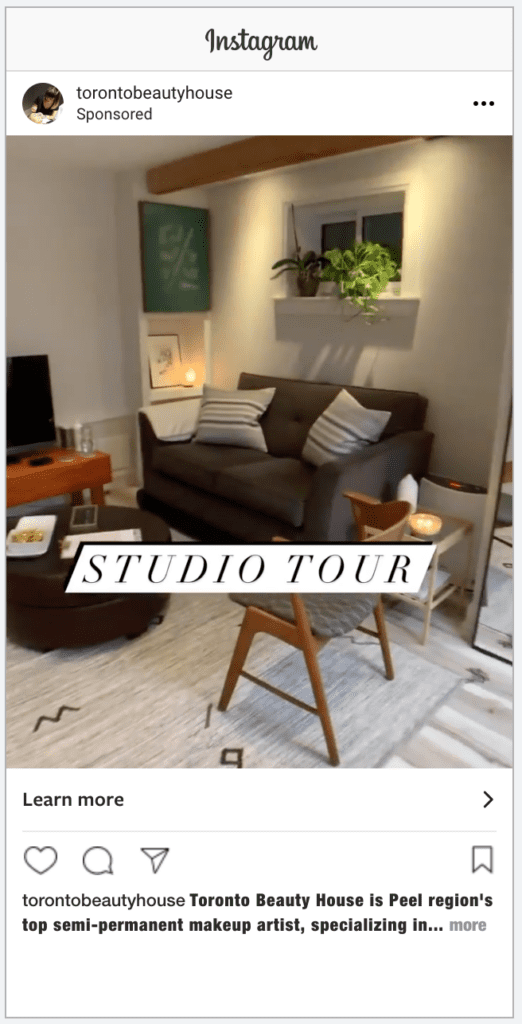 Permanent makeup services can get pretty pricey. And letting someone tattoo your FACE is a big deal! You need to trust that they know what they're doing.
That's why Amrit, owner of Toronto Beauty House, is using Retargeting Ads to show off her clients' amazing results.
You'll notice that she's not making any sort of sales-y offer with this ad. No special discount, no "HURRY UP AND BOOK ME" type of messaging.
The first ad is a Before and After type image that highlights Amrit's work and the results she gets for her clients. She's just showing off what she can do.
The second ad is actually a video (I grabbed a screenshot, that's why the image is a bit blurry). It's a quick 30-second tour of Amrit's studio space. Again, no sales-y offer. No pressure to book.
Amrit is simply giving people a look inside Toronto Beauty House. Letting them see that yes, this is a safe and legitimate space. Giving them a chance to decide whether this vibe is what they're looking for.
These ads are targeting everyone that has visited Amrit's website or engaged with her on Instagram in the last 30 days. And with one click, they can take action and book their appointment!
So, What Do You Think???
Are paid ads starting to make a little more sense? I know that marketing doesn't come naturally to most small business owners. Why should it?
You started your business because you're really passionate about something…
Lash extensions, permanent makeup, skincare, massage therapy, bridal makeup.
Whatever you offer, I know you have a particular talent that you're dying to share with the world and you want to make more money doing it. But being good at something? Doesn't automatically mean you're good at selling that thing.
Running paid ads can definitely help, but there's a whole lot more to it than just boosting your latest Instagram post.
To reach six figures, you need a strategy that meets people wherever they are in their own Customer Journey and guides them along the path from browser to buyer.
You may also need someone to guide the way.
Oh, hey! That's me! 😊
While I have no desire to be just another marketer pounding you on the head with BUY MY STUFF emails day in, day out…
The truth is, I've built my entire business around helping local business owners like you show up in a bigger way. And frankly, it would be my pleasure to help you put your stake in the ground.
If you found this post helpful and you'd like to see these 3 ads in action, be sure to check out my 1-hour strategy class, The Booked Blueprint.
---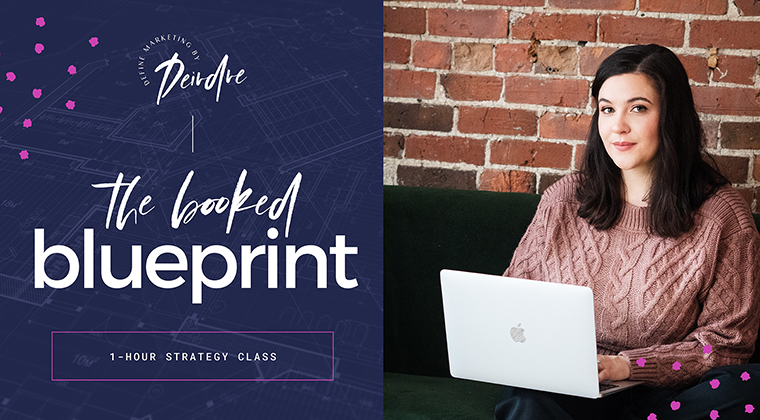 ---
Here's what you'll learn for just $27:
✅ How to set advertising targets based on your revenue goals and plan a realistic marketing budget.
Before you start running paid ads, you need to be clear on what you're actually trying to achieve and how much it's going to cost you! This is how you'll stay profitable.
✅ How to turn browsers into buyers by using the 'Customer Journey' strategy.
Whether your ideal clients are just looking for information or they're ready to buy right now, this strategy will make sure you're showing up in the right place at the right time.
✅ The best type of ads to run at each stage of the Customer Journey.
We'll cover Display Ads, Google Search Ads, and even Facebook Ads! I'll show you what each ad looks like and even how much to spend.
✅ What numbers to look at in your campaign dashboard to measure success.
Plus, I'll show you what to do when you feel like your ads 'aren't working' and how to increase your booking rate by up to 332% with one simple change.
​Check out the details here​ and let me know if you have any questions.
Watch This Video