Wow! 2020 was kind of a shit show, wasn't it? I'm still trying to wrap my head around it! But despite this insane pandemic, a lot has happened.
Not only have I entered into my second year of running my own business, I've reached the end of a decade-long journey to get where I am today.
So, I thought it would be a nice full-circle moment to sit down with my good friend Rachel, a life and career coach and host of the Clarity on Fire podcast.
Let me tell you something…
I've definitely had my ups and downs over the last decade (like most of us).
And where I am today — living in Scotland, teaching advertising, running my own business — is very different than where I was 10 years ago.
So, how did I end up quitting my job, moving to Scotland and starting Define Marketing?
That's what Rachel and I are getting into in what she calls an Interview with a Normal Person.
Click on the player at the top of this post to listen. Alternatively you can read the full story below.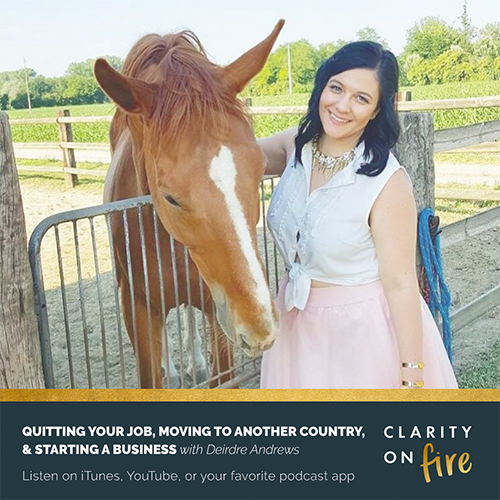 So here's what Rachel and I talked about…
➡️ How lost, confused, and underwhelmed I felt in my first job post-college
➡️ The series of ill-fitting jobs and work environments I've endured over the years
➡️ How I went out on a limb and put my money where my mouth is, quite literally, to invest in my brother's business
➡️ How I stayed patient and determined, despite plenty of failure, rejection, and crickets when starting my own business
➡️ My (and Rachel's) advice for you, if you want the next decade to look very different than this one!
I had SO MUCH FUN recording this podcast.
Not only did it give me an opportunity to reflect on just how far I've come over the past 10 years, but it also made me feel SO GRATEFUL for the lessons I've learned and SO EXCITED to see what the future has in store!
How I Quit My Job, Moved to a New Country and Started My Own Business
My story starts all the way back in 2009 (shit, that makes me feel old).
I was fresh out of grad school in Toronto, Canada with big dreams of working for a fancy advertising agency, planning extensive broadcast campaigns and working with big-name brands.
Disappointment smacked me hard upside the head when I moved back home to Ottawa.
The only job I could find was with a medical device company that didn't know fuck-all about marketing and certainly didn't value it.
I had no colleagues in my field, no direction, no one to mentor me and I was barely making minimum wage. I can't even count the number of times I wondered if I'd made a mistake when I chose Advertising as a career.
"Should I go back to school?" I wondered. "Should pick up a trade instead, maybe become an electrician? Something that will pay better than this?"
But there was a silver lining!
While I was away at grad school, my older brother had fallen in love with the most incredible girl. She was so sweet, so kind, so funny, such a hard worker and I fell in love with her too. She was a dancer, choreographer, a teacher and talented as fuck!
So, imagine my surprise when my asshole brother, a manufacturing engineer, said that he and his girlfriend were planning to open their very own dance school!
"You studied advertising," my brother said to me. "Do you think you could help us market our dance school?"
And that's what started it all! My burning passion for helping small business owners and creative entrepreneurs was ignited when I realized that I could make a difference in my family's own business!
So, How Did I Get into Online Marketing?
It wasn't until late in 2010, close to a year and a half after graduating, that I finally managed to get out of that godawful medical device company and find myself a real job in marketing.
I found myself a copywriting job at a software distribution firm (Ottawa is a tech city). And at last, I was at least learning something related to what I studied, but oh man! I was really effing bored!
"Who cares how many copies of Microsoft Office we sell?" I thought to myself. "How seriously boring is this campaign for Adobe Creative Suite?"
As I continued working directly with a strong marketing team I started to learn all about email marketing (open rates, A/B testing, etc). I also had my first experience with Google Ads and began to learn about e-commerce.
Slowly but surely, I worked my way up from copywriting and was given the task of managing the company's online marketing campaigns (Facebook and Google Ads mostly).
Believe it or not, online marketing was still REALLY new at the time. But I actually had a fantastic boss who valued continuing education and encouraged me to keep learning as much as I could.
Meanwhile, at the Dance Studio…
The dance studio owned by my brother and his now-wife had opened for business. And every time I learned about a new online marketing tool or tactic I would get SO EXCITED thinking of all the ways I could use this knowledge to help grow the business.
When the Competitive Dance Season began I was spending my evenings and weekends at competitions, helping out backstage and cheering from the audience.
My mind was completely blown by the incredible choreography my sister-in-law had put together and I was so amazed at all of the innovative props engineered by my brother.
"Software is boring as shit," I thought. "But THIS is something worth marketing!"
Then I Realized that Working a 9-5 Job was Torture!
"PLEASE HIRE ME!" I begged my brother and his wife.
"We can't afford to pay you," they said. "We wish we could, but we're not breaking even yet."
"But I'm DYING at work!" I cried. It was kind of true.
I hated setting the alarm and dragging my ass out of bed. I was bored out of my skull in meetings about software sales. And after a while, I started waking up with terrible headaches and calling in sick.
When I did make it to work, I was mentally checked out and secretly working on dance studio projects when I thought my boss wasn't looking.
But he was looking and I was reprimanded. More than once.
I started desperately looking for another job. Maybe with an advertising agency this time? Maybe if I found something that wasn't so boring, I'd like work better?
I saw an opening at a company I'd interned at briefly in college. The position paid WAY better than what I was making at the time so I decided to go for it! More money! Whoo Hoo!
I was quickly offered a position and began working with… another software company (hmmmm there's a theme here).
I thought that making more money would help me feel motivated and that things would start to get better! Instead, they just got worse. Way worse.
So I continued to spend my work days checked out, focused on dance studio marketing strategies until…
I GOT FIRED
Shit! Was I ever humiliated! Fired?? I mean… I HATED my job, I hated working in an office and I HATED driving to work. But fired?? What the hell was I gonna do?
It took all the strength I had not to cry as one of the managers stood over me and watched as I packed up my belongings from my desk, glaring at me as if I were some sort of criminal.
But to be honest, it was probably one of the best things that has ever happened to me! Getting fired was the kick in the ass I needed to turn what I loved into my job.
The dance studio couldn't hire me yet, but I sure as hell was determined to grow that business! I vowed to make KaliAndrews Dance Company the most successful school in the whole friggin' city of Ottawa because dammit I wanted to get paid to do what I loved!!!
Wanna know what happened next? I TRIPLED the number of registrations at the dance studio and turned it into my full-time job!
How I TRIPLED the Size of my Family Business in 3 Years
It was 2013. I had just been fired from my crappy software job, I was embarrassed and didn't know what to do next…
So, I volunteered to help out around the office at the dance studio owned by my brother and his wife.
The more time I spent at the studio and the more I got to know the customers and the business, the more I truly believed in its potential.
I became so filled with passion and determination, doing everything I possibly could to grow that business so my family would be able to hire me full time.
In other words, their success became my success and I HAD to hustle to make ends meet!
By 2014 the studio was doing ok… But my brother and his wife were still struggling to make a profit.
One day my brother came to me and asked, "Why isn't the business growing? What do we need to do to increase registrations?"
I didn't hesitate when I told him, "You need to invest in online marketing. Nobody will know who you are and nobody will register for dance classes if you don't step up your game!"
"How much do we need to invest?" he asked.
I knew the answer already. I'd done the math so I didn't hesitate when I told him, "$10,000 would turn this business around."
"NO WAY!" my brother shouted. "It's not happening! We just can't put that kind of money into advertising. We don't have it."
I don't know what came over me, but right then and there I just wanted so badly to see the dance studio succeed!
I was so inspired by the students and so proud of what had been already been accomplished.
And I believed in my own marketing skills enough to know that I could take that $10,000 and turn it into profit!
I may have lost my mind at that moment but…
I Offered to Put Up the Money Myself!
Crazy, right?!?!? I know! But I did it!
I managed to get approved for a line of credit (don't ask me how that happened) and I put that money into Google Ads and Facebook Remarketing.
I managed those campaigns in addition to my administrative work in the main office. And you know what happened?
I grew the business by 71% in just one season!
By the time I left the studio 3 years later to work for an agency, the business had grown from 125 students to almost 500 hundred students.
THAT'S MORE THAN TRIPLE!!!
I made my money back and finally convinced my brother that online marketing IS worth it.
Investing Your Own Money into Online Marketing is Fucking Scary!
I sound like I'm bragging, I know. But the reason I'm telling you this story isn't to pat myself on the back (ok, maybe a little)…
It's because I want you to know that I understand first-hand how fucking scary it is to invest your money in paid ads.
But I took on $10,000 of debt for a business that wasn't even mine — a business that I truly believe in. With hard work, my investment paid off three-fold!
Now here's the most important part… If you're a small business owner or creative entrepreneur, you do NOT need to hire an expensive agency or marketing consultant to run your ads for you.
You CAN set up a profitable Google Ads campaign, by yourself, and grow your business into the thriving personal empire you've always dreamed of!
Here's What Happened Next…
There's more to this story, of course…
After 3 years of working full time with the dance studio, I moved on to one of those fancy advertising agencies I'd always dreamed of. I was quickly promoted to lead digital marketing strategist and managed campaigns for big-name brands like Porsche, Audi and Hard Rock.
But I finally realized that working in an office just isn't my thing.
To this day, the most fulfilling campaigns I've ever worked on have been for my own family business.
And that's why I want to help other small businesses just like the dance studio. That's why I started Define Marketing.
Now, here I am in 2021… almost 12 years on from where this story starts.
I'm living in Scotland with my husband, working for myself and teaching small business owners how to manage their own campaigns.
And if you want your next decade to look a lot different than the last, give this episode of Clarity on Fire a listen using the audio player above.
If my story resonated with you, leave me a comment below or give me a shout over on Instagram. I'd love to hear your thoughts!